And then there were those times in a year's span that a U.S. Senator was pulled over on account of not being able to change out of his offensive, scary black skin and into his more Senatorially appropriate white skin.
GOOD BLACK NEWS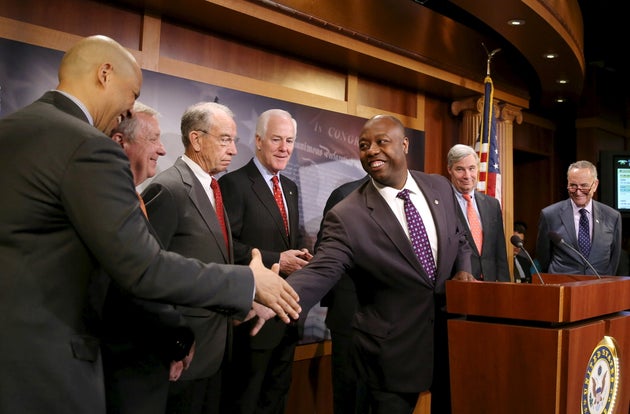 Sen. Tim Scott (R-S.C.) shakes hands with Sen. Cory Booker (D-N.J.) at a news conference on criminal justice reform, Oct. 1, 2015. (GARY CAMERON / REUTERS)
article by Laura-Barron Lopez via huffingtonpost.com
WASHINGTON ― In the course of one year as an elected official, Sen. Tim Scott (R-S.C.) was pulled over seven times by law enforcement. Another time, a Capitol Police officer demanded that Scott show him his ID because the special pin on Scott's suit jacket ― a pin assigned to United States senators ― evidently wasn't enough.
Scott shared these stories and more Wednesday evening during a roughly 18-minute speech on the Senate floor. He is the only black senator in the Republican conference, and one of just two in the upper chamber.
His speech on Wednesday was the second in a series of three in response to a lone gunman killing five police officers in Dallas last…
View original post 472 more words